Moscow State Circus
Glasgow
Special Offer:

Buy one, get one free!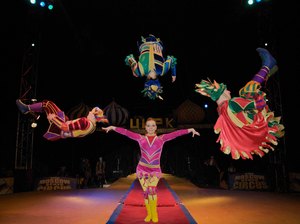 Until 20th Jan 2013 - Kings Inch Road, Glasgow
The Moscow State Circus brings its latest & most spectacular show to date to the UK and Ireland for a sensational extravaganza.
Inspired by the legend of The 12 chairs, the new show takes us on an incredible journey in the company of some of the greatest circus performers on earth.
A Mammoth cast of Russia's greatest and most talented circus artistes, many of which have never performed in Britain, transform the most famous circus in the world, combining contemporary & classical circus in way never before witnessed.
This newly devised show includes many new attractions including the beautiful queen of Russian Circus Yana Alievia on a revolving ariel Chandelier, the Whirlwind Rubsovsm Troupe who acrobatically catapult themselves across & high into the big top at breakneck speed, the unbelievable vertical pole balancing of The Alikanov and so much more!
OFFER CODE: TMDEAL
---
Terms and Conditions
OFFER: Buy 1 get 1 free (normally up to £29 each) Please note, a processing fee of £2.50 may apply per transaction. This offer is available for dates up until 20 January 2013. Tickets must be bought in pairs. This offer is subject to availability, cannot be used in conjunction with any other discount and does not apply to tickets already booked.
---