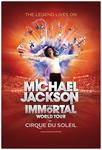 Michael Jackson - The IMMORTAL World Tour: Cirque Du Soleil
This once-in-a-lifetime electrifying production will use Cirque du Soleil creativity to give fans worldwide a unique view into the spirit, passion and heart of the artistic genius who forever transformed global pop culture. Written and directed by Jamie King, the show includes 64 international dancers, musicians and acrobats.
The underpinnings of THE IMMORTAL World Tour are Michael Jackson's powerful, inspirational music and lyrics - the driving force behind the show - brought to life with extraordinary power and breathless intensity.
Through unforgettable performances Michael Jackson THE IMMORTAL World Tour underscores Michael's global messages of love, peace and unity.
Cirque du Soleil has dazzled and amazed almost 100 million people in 300 cities across five continents since its humble beginnings in Quebec in 1984. One of the most magical and innovative performance troupes around, Cirque Du Soleil combine circus skills with dance, movement, stage trickery and magic to create a truly unique experience.

Cirque Du Soleil tour dates
---