Toy Story 3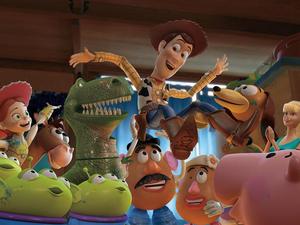 © Disney/Pixar
---
Genre: Animation / Family / Comedy / Adventure
Director: Lee Unkrich
Running time: 103 mins Released: 19th July 2010

---
About Toy Story 3
Toy Story 3 welcomes Woody (Tom Hanks), Buzz (Tim Allen) and the whole gang back to the big screen as Andy prepares to depart for college and his loyal toys find themselves in…daycare! These untamed tots with their sticky little fingers do not play nice, so it's all for one and one for all as Woody and co. plan their escape. A few new toys join in on the adventure, including iconic swinging bachelor and Barbie's counterpart Ken (Michael Keaton), a hedgehog named Mr. Pricklepants and a pink, strawberry-scented teddy bear called Lots-o'-Huggin' Bear. These new toys are friendly and fun...but is everything really as it seems? Pixar prove their might again in this must-see adventure.
We're not sure of your location
Click here to set your location and see the days and times this film is showing near you.