Take This Waltz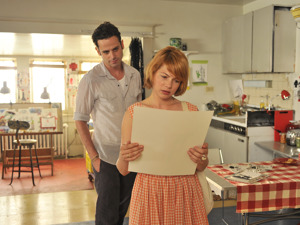 ©
---
Genre: Drama / Romance
Director: Sarah Polley
Running time: 116 mins Released: 17th August 2012

---
About Take This Waltz
When writer Margot (Michelle Williams) meets Daniel (Luke Kirby) while completing a piece in Nova Scotia, they quickly strike up a friendship laden with chemistry that hints at a romantic future. The problem is, Margo is happily married to Lou (Seth Rogen), a good-natured yet somewhat predictable cookbook writer. At first, her flirtation with Daniel promises to be a one-off, but then Margot finds out that Daniel is actually her neighbour. While Lou toils over his latest batch of chicken recipes, Margot wonders if she should take the plunge with Daniel, who is charming but also possibly a heart-breaker. Her sister (Sarah Silverman), who is also married and recently out of rehab for alcoholism, offers wise counsel but Lou seems oblivious to any problems and Margot is troubled by an emptiness she cannot name.
We're not sure of your location
Click here to set your location and see the days and times this film is showing near you.