Death Proof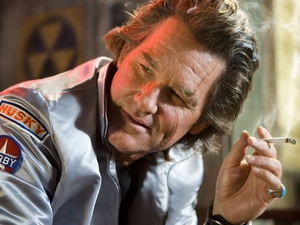 ---
Genre: Suspense / Thriller
Director: Quentin Tarantino
Running time: 100 mins
---
About Death Proof
As the latest film from the legendary Quentin Tarantino, Death Proof contains all the elements - fast cars, wild girls and a psychopathic killer - that fans have come to expect from the virtuoso director. Stuntman Mike (Kurt Russell), who has a penchant for killing attractive young women in car accidents, has made his rusty old juggernaut crash proof, so that he can fulfil his sick fantasies unharmed and continue terrorising the remote highways of America. Little does he know, however, that his latest victims will refuse to go quite as quietly as they usually do...Filmed in an archetypal seventies style with no hi-tech special effects, Death Proof is an energetic psychological thriller with all the nuances of a modern classic. With Rosario Dawson, Vanessa Ferlito and Rose McGowan.
We're not sure of your location
Please click on the 'Change Location' button to set your location and see the days and times this film is showing near you.